Construction began in June, 2001 for Williamsburg's Aquatic Center and Recreation Center.  The Aquatic Center features a large water slide, water spraying features, a children's slide and diving board, drop slide, and sand play area.  In addition the Aquatic Center has a large concession/picnic area with deck and grassy lounge areas.
The facility, costing nearly $2.2 million dollars, houses the latest in pool equipment and features. The facility was completed by the summer of 2002.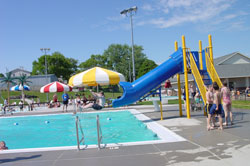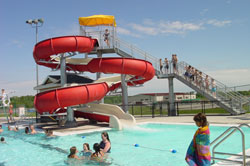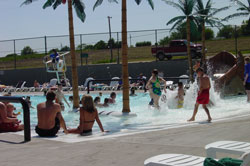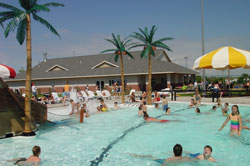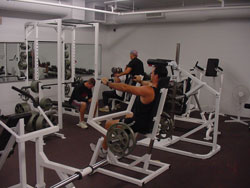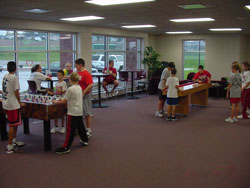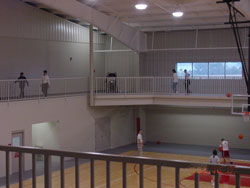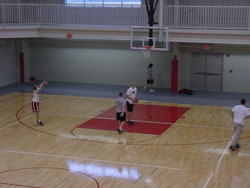 The $3.6 million recreation center covers over 30,000 square feet.  Built as a two level facility, the center's lower level houses three sports courts, a gaming lounge, racquetball court, weight and fitness equipment, and concession area.  An area of the court can be adapted for indoor batting and golf cages.  The upper level features a walking/running track overlooking the courts below with a sports exercise room used for aerobics and fitness. Also included on the upper level are rooms designed for meetings and parties. The Recreation Center opened in 2002.
Financing for the construction of the centers has been donated by the Holden family. (Members of the Holden family, shown above at the ground breaking ceremony include: Ron and Arlene Holden, grandsons, Corbin and Austin Blythe, and Ruby Holden.  Mayor Murray Armstrong is shown on the far right). The Aquatic and Recreation Centers were built by the Roland and Ruby Holden Foundation on city property and gifted to the city upon completion. The Aquatic Center is managed and operated solely by the city.
Ron Holden is the former owner of Holden's Foundations Seeds L.L.C. in Williamsburg.
The Centers are located at the Sports Complex, located on Highway 149, southeast of Williamsburg.
(Information and groundbreaking photo courtesy of Callie Wetjen, Journal-Tribune)