Williamsburg, Iowa – May Flower Edition
Source: Journal Tribune, May Flower Edition, April 30, 1903
Like a jeweled ring, sparkling on the finger of a bride, is the town of Williamsburg to Iowa County. Situated almost in the geographical center of the county, the town of Williamsburg, a thriving and substantially built little city of 1200 population, sits proudly and serenely upon her seven hills. Surrounding her on every hand are the farms noted for their fertility. The live stock interests have chosen Williamsburg as their center and the well known herds of cattle and hogs; the flocks of sheep and the stables of fine horses are known throughout the length and breadth of Iowa. The shipments of stock from Williamsburg is one of our largest sources of revenue and the two Savings Banks here in which are over $700,000 on deposit fully attest the standing of Williamsburg as an agricultural center. The town is of easy access, being located on the K.C. Div. of the C.M. & St P Ry. Midway between Kansas City and Chicago.
The Naming of Williamsburg
Source: Journal Tribune of August 22, 1957
The secretary's book for the Williamsburg Masonic lodge gives us a clue concerning the confusion that once existed over the naming of our town. It starts out: "Stated Meeting, Hall of Stellapolis Lodge No. 392, Chester (Williamsburg), Iowa, Jan 9, 1879." Stellapolis still remains the name of the lodge. It is the only vestige of the day when Williamsburg's post office bore that unusual title.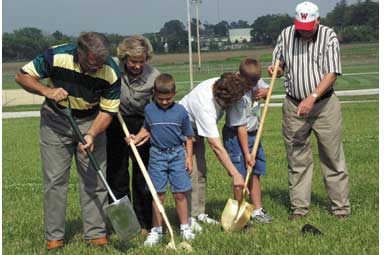 Williamsburg and the Globetrotters
(Sources: Journal Tribune articles and Bob Hanson's book "As It Was Then and Is Now")
This series of events started February 11, 1929, when Abe Saperstein of the Harlem Globetrotters called from Chicago. He said that he had an open date on February 14, 1929, and would like to play the Williamsburg Independent team who at the time enjoyed a six year record of 75 wins out of 95 games played.
The Harlem Globetrotters were only three years old and making their first road trip. They were guaranteed a hundred dollars and a percentage of the gate. Williamsburg had three days to advertise the event.