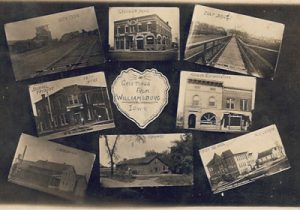 Williamsburg, nestled on a bend in Old Man's Creek was founded in 1854 when Richard Williams, who operated a steam sawmill north of the creek, thought the Rock Island Railroad's route would take it just east of his new town. The Rock Island went ten miles north, but unlike a number of small towns founded on railroad hopes, Williamsburg hung on.
Williams, a native of Wales, platted the original town site on forty acres south of farmland he owned. That original site is the part of Williamsburg immediately east of Highland Street (Highway 149).
In 1856, Williams decided his first plat wasn't suited to be an "inland" town so he added the Williams Addition to the city: forty acres southwest of the original site. Today that site is Williamsburg's business district.
Until 1860 Williamsburg's mail service was provided by post offices to the east of the village. However, when the Rock Island Railroad reached Marengo that year Williamsburg petitioned to have their own post office, and a gentleman named Homer Paige was named postmaster.
Mr. Paige's family included three daughters, the youngest named Stella. Her father incorporated her name into the new post office he was to serve and called it "Stellapolis"-"Stella's City." The family soon moved to Des Moines but "Stellapolis" was the official name for the Williamsburg post office for 29 years. Today the name survives in the local Masonic Lodge, Stellapolis Lodge No. 391.
Williamsburg remained a small Welsh community until the Chicago, Milwaukee and St. Paul Railroad built a line from Cedar Rapids to Ottumwa in 1884. The railroad line went through Williamsburg just about where Williams had anticipated the Rock Island railroad would thirty years before. Almost overnight the community grew from 150 hardy souls to more than 1000, and in 1885 the town was incorporated.
Williamsburg's roots are primarily Welsh, Irish, and German. Settlements of Welsh pioneers just east of Williamsburg and settlements of Irish in the same area led to a gradual influx of those people into the city. More Irish settlers arrived after the coming of the railroad. After the turn of the century German immigrants began to arrive in the area spreading out from their original settlements north and west of Williamsburg
Early settlers in the Williamsburg area also included some Scottish and "Scotch-Irish" folk. One can still hear German spoken on Williamsburg's streets and until a few years ago conversations in Welsh were not uncommon.
-Loretta Hanson
For more information on the history of Williamsburg please Click Here